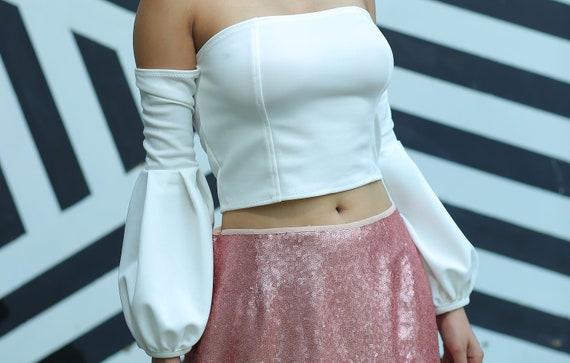 Kerry Parkers Aurora Ivory Off- Shoulder Top is a fabulously designed Victorian Era inspired
strapless crop top
that is ensured to never go out of fashion. Designed in a rich ivory color that without a doubt goes well with all colors, this strapless crop top works to emphasize the silhouette of the wearer in a mesmerizing manner.
Made of rich cotton viscose, this ensures the maximum flexibility, body hug and comfort all together. The off- shoulder sleeves and the wide set basic neckline works well to accentuate one's beauty bones, exactly how it was during the Victorian Era.Designs inspired during this era largely took lessons from the style statements made by the queen itself and this is reflected in the tops sophisticated royal design. The addition of Bishop sleeves gives this top a spectacular statement look that will not go unnoticed.
This ivory strapless crop top can be paired with a wide range of colors and styles of garments owing to the multipurpose attitude and the neutral color theme of the top.This top can be paired with a stunning black sequined pencil skirt and a black pearl choker and drop earrings. The look can be finished off with a classy pair of studded ivory
statement heels
to make a stellar formal yet party time appearance.
The Bishop sleeved top can also be paired with denim shorts or jeans to get an effortless casual look that can be paired off with white sneakers and a pair of chunky earrings to get a sexy casual look on hand.
Pair this off shoulder with a lovely fit and flare skirt of any length, to achieve a princess look which can be combined with heavy army boots or a summery ballet shoes for a punk rock or sweet girl look based on ones desire.
Another off shoulder that is to be much adored from the Kerry Parkers Apparel collection is the Bouquet of Roses Bardot top which is sure to tantalize your femininity. This top is hugely embellished with delicate baby pink tulle 3D roses in the front and covering the arms and it has a nude under bodice that is styled very fashionably. The under bodice uses a nude colored flexible cotton lycra to ensure the best fit.
The use of baby pink tulle puts a strong emphasize on love, warmth, passion, softness and the 3D roses add an alluring extra dimension to the top that makes the wearer feel as though she is Aphrodite's re-incarnation.
This top is yet another Victorian Era inspired multifunctional top from the Kerry Parkers that dazzles one with its embrace on everything feminine. The top can be paired well with a wide range of colors and styles of lower apparels like coulettes, palazzos, pencil skirts, denims, jeans, etc to give a funky, glam or elegant look based on one's desire.
Style it with a vibrant sequined skirt and some funky drop earrings and blush statement heels to get a ravishing party look.It can also be combined with a sleek black divided skirt with some nude pumps and black stud earrings with a matching drop pendant to give an elegant, feminine formal look.The final advice would be to rock it with loose denim overalls for look that screams casual yet understated glam. This combined with sneakers and a ruffled high pony hairstyle is a sure head turner while going about your daily errands.
The rose bardottop will look ravishing combined with your regular pair of jeans to create a fun casual day look or with a flared skirt to give a feminine touch to your everyday look. Complete the look with chunky contrast earrings, headbands, funky handbags and bracelets to give a unique look.
I urge all the ladies on the floor to get yourself one of these life savers that are definitely a must have in our wardrobes!
You can find them at Etsy and find yourselves the owners of these amazing tops very soon.